To apply, please return a completed application along with an application fee of $50.00. This fee will be applied to your summer tuition. Admission is based upon a first-come first-serve basis. However, priority is given to current families of Belmont Nursery School and siblings of our alumni. There is no minimum weeks required.
Our Program has an extraordinary staff of highly educated and experienced teachers. Our summer staff includes teachers with over 20 years of experience in early childhood education, and specialists in art, music, dance and foreign language. They are dedicated educators with a deep understanding of how children play and learn at different stages of development.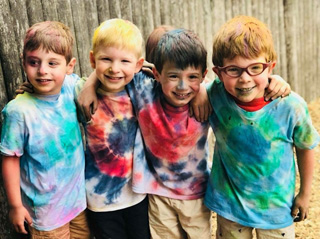 Weekly Themes
Week 1:
"Under the Sea" · Explore and learn about the ocean and its creatures.
Week 2:
"America the Beautiful" · Red, White and Blue
Week 3:
"Fairy Tales" · Once upon a time...
Week 4:
"The Jungle" · Explore the mysteries of the deep, dark jungle.
Week 5:
"The Desert" · Hot and dry and teeming with life
Week 6:
"Passport to the World" · Pack your bags for a trip around the globe.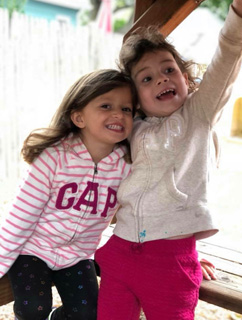 Week 7:
"Olympics" · Gold, Silver or Bronze medal. Which will it be?
Week 8:
"circus" · Welcome to the greatest show on earth.
Week 9:
"Let's Celebrate" · It's Halloween, New Years, Chinese New Year . . . in August!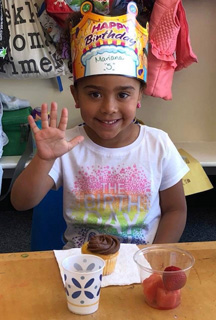 DAILY SCHEDULE
8:00-9:30 - Children arrive and quickly settle into free play activities: painting, blocks, dolls, trains, computers and friends.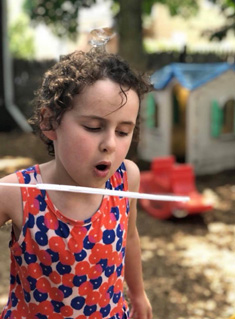 9:30-10:00 - Snack Time - we provide a variety of healthy foods.
10:00-10:45 - Project Time - exploring all about our weekly theme.
10:45-11:00 - stories and settling down.
11:00-12:00 - Recess and Pool time - unless it is raining we go outside and play in the yard and swim in the pool.
12:00 - All morning children say goodbye.
12:00-12:30 - It's time for lunch. We do not provide lunch, but we will heat or refrigerate lunches from home.
12:30-1:15 - Rest time. We do not require that children sleep. For the children who do not sleep, we recommend that they bring in a coloring book or something small to keep them busy and quiet.
1:15-2:15 - Special Activity - Each week will feature different activities. Here are a few: creative dance, cooking, woodworking, drama class, Spanish, science, art, movies and more.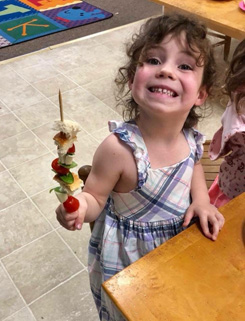 2:15-2:30 - Afternoon snack
2:30-3:00 - Recess and Pool time
3:00 - All full day children say goodbye.
3:00-5:30 - This time of the day is scheduled by the children. We adapt to changes in the weather and moods . . . it's summer, the sun is shining, let's play outside - or we stay in the cool air conditioning when the heat is too much - and play with computers, dramatic play, building with blocks, arts and crafts and more.
5:30 - All children say goodbye.
Click here for a Summer Registration Form
Return to Programs page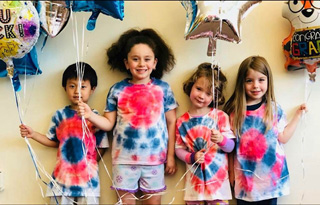 © 2000-2019 -- Original website concept by Refugio Creative Enterprises.